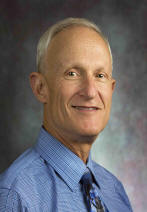 A. Herbert Alexander, MD
Dr. Herb Alexander opened the doors of Alexander Orthopaedics January 1, 2002. His former position was Chairman and Director of the Orthopaedic Surgery Residency Training Program at the Naval Medical Center, Oakland, California where he held the rank of Captain, Medical Corps, United States Navy. He is a 1973 graduate of Northwestern University Medical School where he was a participant in the Honors Program in Medical Education and a member of the Alpha Omega Alpha Honor Medical Society. During a distinguished Naval career, Dr. Alexander served as Orthopaedic Specialty Advisor to the Surgeon General of the Navy, received the Baron Dominique Larrey Award for Excellence in Military Surgery, and attained the faculty rank of Professor of Surgery at the Uniformed Services University of the Health Sciences (a position he still holds). His military awards include the Navy Commendation Medal and Navy Meritorious Service Medal.
He has published over 60 manuscripts and chapters in the medical literature and served as Associate Editor-in-Chief of The American Journal of Orthopedics from 1991-2018. His special medical interests are in fracture surgery and sports medicine. Having given over 300 presentations, Dr. Alexander has participated in numerous national and international medical education seminars as faculty and lecturer and is an examiner for the American Board of Orthopaedic Surgery (the certifying body for all U.S. orthopaedic surgeons). After serving 27 years on active duty in the United States Navy, Dr. Alexander moved to Sun Valley in 1998. Since then, he has served as Chief of Surgery at the St. Luke's Wood River Medical Center (SLWRMC), Vice-Chief of Staff, and Chief of Staff. He also served on the Community Board of Directors of the SLWRMC for 16 years. He has an intense interest in computer technology and how it can enhance the quality of medical care. Having established a totally electronic office, he is a recognized authority and has been an invited speaker and lecturer to numerous societies on computerization in medicine.
Still maintaining an interest in the military and in military medicine, Dr. Alexander serves as an admissions representative (Blue and Gold Officer) of the United States Naval Academy. Dr. Alexander also served on the Board of the Society of Medical Consultants to the Armed Forces, a "brain trust" of former high ranking military medical officers that provided advice and counsel to the Surgeons General of the Navy, Army, and Air Force. He was its President for the final 3 years when it was "sun-setted" having completed its mission. In 2008, he received the John R. Seal, MD Award from the Society of Medical Consultants to the Armed Forces. This is an award presented by the Society in recognition of outstanding contributions to military medicine through research, patient care, service to the Surgeons General.
Dr. Alexander was a principal and founding member of MDReview, an organization that provides independent external medical peer review to hospitals and medical staffs. He is married to Charlotte E. Alexander, MD, (hand surgeon and associate at Alexander Orthopaedics). They have two adult children, Amy (also a Navy orthopaedic surgeon) and Amanda. In his leisure time, Dr. Alexander enjoys tennis, aviation (private pilot), piano, skiing, biking, golf, and computing. Below is an abbreviated curriculum vitae for Dr. Alexander. Click here to download a complete curriculum vitae.
Call our office at 208-727-0005 to make an appointment.
EDUCATION:

1967-1969

Undergraduate:
Honors Program in Medical Education, Northwestern University,

Evanston, IL. B.S. in Medicine

1969-1973

Medical:
Honors Program in Medical Education, Northwestern University,

Chicago, IL. Doctor of Medicine, 1973

1973-1974

Internship:
Straight Surgery, Naval Medical Center, Oakland, CA

1974-1978

Residency:
Orthopaedic Surgery, Naval Medical Center, Oakland, CA

1986-1987

Fellowship:
AO/ASIF, University Hospital, Geneva Switzerland

CERTIFICATION:

1974

National Board of Medical Examiners

1979

American Board of Orthopaedic Surgery

1996, 2006, 2016

American Board of Orthopaedic Surgery (Voluntarily Recertified)

MEDICAL LICENSE:

1974
1998

California
Idaho

ACADEMIC APPOINTMENT:

1994-current

Professor of Surgery, Uniformed Services University of the Health
Sciences, Bethesda, MD

2018-current
Professor of Orthopedics, Idaho College of Osteopathic Medicine, Meridian, ID

PROFESSIONAL BACKGROUND:

2002

Current Position: Alexander Orthopaedics, PA, Ketchum, ID

1998-2001

Private practice: Sun Valley Sports Medicine, Ketchum, ID

1997

Private practice: The Specialists Orthopaedic Medical Corporation,
Fairfield, CA

1983-1996

Chairman, Department of Orthopaedic Surgery, Naval Medical Center,
Oakland, CA and Director of the Orthopaedic Surgery Residency
Training Program

1980-1983

Assistant Chairman, Department of Orthopaedic Surgery, Naval
Medical Center, Oakland, CA

1978-1980

Attending Staff, Department of Orthopaedic Surgery, Naval Medical
Center, Oakland, CA

MILITARY:

1970-1997

Medical Corps, United States Navy

1997

Captain, Medical Corps, United States Navy (retired)

PROFESSIONAL ORGANIZATIONS:

PROFESSIONAL ACTIVITIES:

HOSPITAL AFFILIATION: